The arrival this week in the post of
this book
about the life of an extraordinary camerman left me in no doubt as to who should be the latest
Amputee of the Week.
Mohamed "Mo" Amin was born in Kenya in 1943. From the time he acquired his first camera, a box brownie, Mo's future was set. Quickly, he learned photographic and darkroom skills and before he was 20 his pictures were appearing in all the Fleet Street newspapers.
Captured and tortured covering a coup in Zanzibar in 1966, he was released only after intense international diplomatic pressure, and because of his work in Uganda the world's perception of Idi Amin changed from comic despot to evil dictator. In 1969 he was voted British Cameraman of the year for his coverage of the assassination of Tom Moboya, a Kenyan minister.
His coverage of the 1984 famine in Ethiopia was so compelling that it inspired a collective global conscience and became the catalyst for the greatest ever act of giving. The Band Aid and Live Aid appeals were a direct result of Mo Amin's images.
Eight years on from the famine report, Mo was covering a revolution in Addis Ababa with journalists Michael Buerk, Colin Blane and John Mathai. An ammunition depot had exploded and the team had gone to film the damage, when a number of rockets exploded, resulting in the death of John Mathai. Amin lost his left arm. However, fitted with a specially designed prosthetic arm, he continued his work, insisting that
"The day I cannot get out on a story will be the day that I die."
In 1996, Amin was returning from Addis Ababa to Nairobi after a business trip. The plane was hijacked by three Ethiopians claiming to be armed with explosives. After a struggle with the crew, the plane crashed into the sea just off the Comoros Islands. Mo Amin and reporter Brian Tetley died along with 121 others.
You can read an interview with Mo Amin
here.
In it, he says of his amputation:
"Everybody else had decided that my career as a cameraman was over, and they told me the sooner I got used to the idea, the better. Everybody decided that was it...Since I lost my arm I have been busier at work. At first I was a little slow, now I think I am faster than before. I think you try harder. I don't really think I have a disadvantage."
If he can do it, so can I.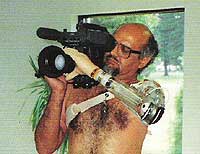 The Mohamed Amin Foundation website