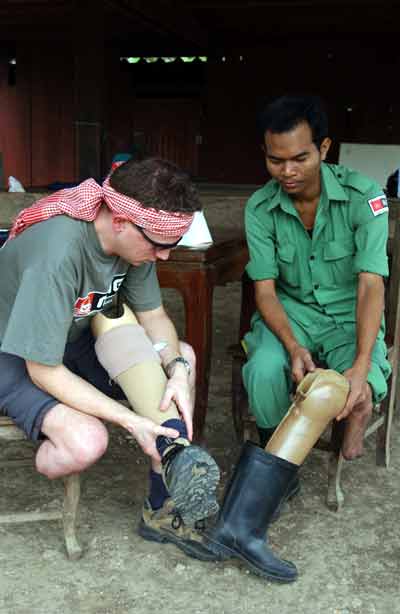 What a week!
Churning out stories like a sausage factory from the Cambodian/Thai border. You can pick one of them up
here
on the BBC website, although I transcribed it onto the blog on Tuesday.
Here's the latest story -- again a sneaky peek of what'll be on News Online over the weekend:
Dateline: Auchamlong Village, Northwest Cambodia.
For decades, the earth beneath Leng Chantry's feet was one of the most fiercely fought patches of ground in Cambodia. Auchamlong's position alongside the Thai border, made it a valuable strategic prize during the country's bloody past.
Until recently, Auchamlong and the surrounding area was a Khmer Rouge stronghold, off limits to most Cambodians, let alone foreigners.
It was while fighting against Pol Pot's infamous army in the area in 1985 that Leng Chantry's leg was blown off by a landmine.
Seriously injured and unable to fight, Leng Chantry struggled desperately just to survive.
"Life after the accident was incredibly difficult," he told me.
"I was a single man and I didn't have a wife and family to look after me or a family to support me. All my relatives had been killed by the Khmer Rouge.
"I stayed with a family and worked in their fields in exchange for board and lodge.
"I was living hand to mouth and I felt completely hopeless because I was so poor."
Facing widespeard prejudice because of his disability, and with little hope of steady employment, Leng Chantry's future looked bleak.
He trained as a motorcycle mechanic but could not a permanent job.
But in 1996 he was offered the chance to train as a deminer, clearing the very same weapons that nearly cost him his life.
Fitted with a special prosthetic leg, made completely from plastic so as not to interfere with his sensitive metal detecting equipment, Leng Chantry works with a team of 14 other deminers. They carefully probe the soil, looking for hidden ordnance.
He is especially close to 4 of his colleagues who are fellow amputees. During meal breaks they sit alongside each other on a tree trunk, pulling off their artificial legs to rest in the same way that most people would kick off their shoes.
Leng Chantry and his team find a wide variety of different types of landmines every day – from crude improvised explosives to sophisticated Russian and Chinese-made devices.
Each, though, is dealt with in the same way. A block of TNT is placed alongside the mine, attached to a detonator. From a safe distance, a disposal expert presses a button, triggering an explosion which blasts the mine to pieces.
With a monthly salary of $180 dollars a month, the deminers earn almost ten times the Cambodian national average. For Leng Chantry the money has lifted him up the social ladder and enabled him to pay for a long-planned wedding.
As for confronting the weapons that blew off his foot on a daily basis, Leng says he has no fears.
"I don't get scared because I'm fully trained," he says.
"There are special operating procedures for working in minefields and if you follow them correctly the job's actually not so dangerous.
"Anyway, I'm just happy to be able to clear the mines so that people can return to their land in safety.
"Hopefully fewer people will be injured because of my work and won't have to go through what I have."
Photo: Leng Chantry And Team
Photo: Amputee Deminer
Photo: Amputee Demining Team
All photos are copyright Sean Sutton/MAG and must not be reproduced without permission.