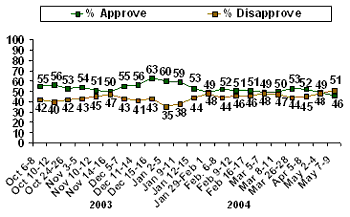 According to the latest Gallup poll,
President Bush's job approval rating has dropped by 3 points in a week -- and currently stands at 46%
One for the stats fans -- Gallup's number crunchers point out that all five presidents who successfully sought re-election since 1950 have maintained job approval ratings above 50% beginning in February of the election year.
Gallup's figures also suggest that more Americans than ever are questioning the invasion of Iraq. For the first time a majority say it wasn't worth going to war. 44% now believe the war in Iraq was worthwhile. A year ago it was 73%.