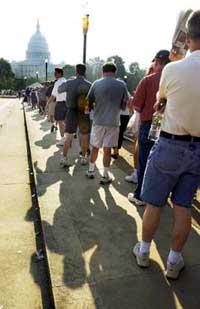 The jetlag hasn't kicked in yet, which is just as well because I've had to hit the ground running. I arrived in Washington at 2 o'clock yesterday afternoon and started work at 3.30 (my colleagues graciously made allowances for the fact that this was half an hour later than my scheduled start time.)
I've been fighting the heat down among the crowds queueing to see Ronald Reagan's casket up on Capitol Hill. An estimated 5,000 people are passing by the coffin every hour.
Seeing the mourners standing in line, one thing that's striking is how
white
they are. In a country where
13% of the population is black,
I'd say about 97% of the people coming to see the coffin are white.
As
this article
explains, the Great Communicator's appeal among African Americans was limited.