TALKING TURKEY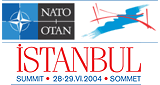 ASSIGNMENT NEWS....To Istanbul, Turkey next week for the
NATO Summit.
In many ways, it's the kind of job I loathe -- a carefully choreographed set piece event in which the press are kept a safe distance from the delegates, corralled into a media centre and drip-fed information through unenlightening news conferences.
I could write the report to mark the end of the summit now -- more than a week before the thing even starts. It'll go something like
"The NATO summit in Istanbul has ended with delegates insisting they've put their differences over Iraq behind them. At his closing press conference, the NATO Secretary General, Jaap de Hoop Scheffer, said the alliance between the United States and Europe was stronger than ever."
You see if I'm not wrong.
The main interest is in the timing. The summit will take place just days before the handover of power to an interim Iraqi government. in addition, in this election year President Bush is likely to use the summit to highlight his credentials as a world leader -- what analysts call the "stature gap" over Democratic challenger John Kerry.
Mind you, while doing some background reading in advance of the summit, I punched the word "Turkey" into the White House search engine and it came back with
this,
which just about sums it up.