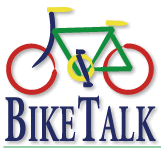 One of the joys of podcasting is the way it occasionally throws up some unexpected diamonds amid the rough.
Bike Talk Radio
is one such jewel which I recently discovered while browsing idly through the podcasts on iTunes.
The show is broadcast on community micro-station
KDRT
out of Davis, California -- the so-called
"Bicycle Capital of the US."
To be blunt, it's not the world's greatest radio programme.
It's clear from the production values that the show is made by passionate volunteers, not seasoned broadcasting pros.
It's a squeaky but lovable old bone-shaker of a programme rather than a sleek carbon-fibre 2006 racing model -- but isn't that
exactly
what community radio is supposed to be about?
In an ever-more homogenous media landscape, Bike Talk Radio is a beacon of diversity aimed squarely at the community it serves.