Here's roughly where we're at in terms of the overall picture, courtesy of
BBC News Online.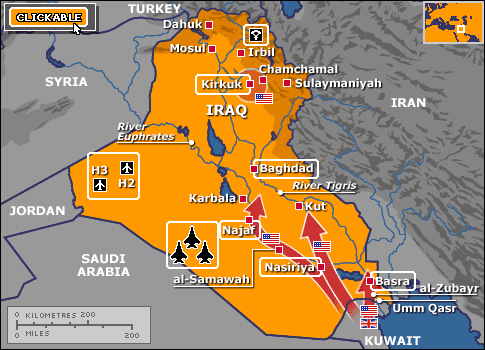 The main developments in the Northern Front, my main focus:
* Kurdish forces in northern Iraq, supported by American special forces and air strikes, have overrun the main headquarters of the Islamic radical group, Ansar al-Islam. Elsewhere, the Kurdish-controlled town of Chamchamal has come under shellfire.
* Kurdish militiamen have crossed the front-line into Iraqi government-controlled territory, seizing a hilltop position guarding the advance to the city of Kirkuk, after Iraqi forces withdrew.
* The UN says up to 300,000 people in northern Iraq have fled their homes. The office of the UN humanitarian co-ordinator for Iraq says the people left northern Iraqi towns of Kirkuk, Irbil, Dahuk and Sulaymaniyah to seek refuge in the mountains.
Discuss Northern Iraq Weblog