As you'd expect, I have a steady stream of celebrities beating a path to my door. So I thought....why not make them do some damn work so I don't have to.
To this end I've introduced a brand new occasional feature.
I proudly present my very first
Guest Writer...
Jamie Tarabay
of the Associated Press who's staying for the weekend en route to Baghdad: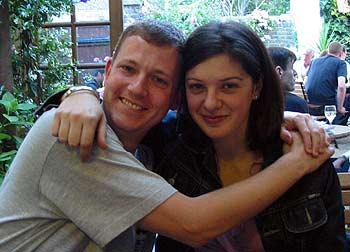 Take it away Jamie...
Sunday, June 29, 2003.
London.
Greetings. I confess I'm rather nervous, I've never been a guest writer before, so your kind forbearance is appreciated.

Stuart is well. It is good to see him again. The last time we were together was at a seedy bar in Jerusalem. It was my farewell before I went off to a posting in Sydney and it ended rather messily, as all good farewells do.

The last bit of contact I had with Stu before his accident in Iraq was a couple of email exchanges. I'd asked him to be careful as things seemed to be hotting up. He replied: I've got a full tank of petrol and clean underwear on, so it all looks good. He assures me that he was indeed wearing clean undies when the U.S. Special Forces ripped them off him after he was hit and he was being evacuated. I found a strange sort of comfort in this.

I'm apprehensive about going to Iraq, as I usually am before I head off somewhere messy and the different aspects of my stay there that I'm not sure about - my reception, my work, the conditions, the people. It looks like I won't be going around anywhere without my flak jacket, and in stifling heat at the hottest time of the year, it's not a prospect I'm currently relishing.

Being back in Sydney I've had to field questions from my friends and overdramatic acquaintances of my already anxious parents about why I would possibly want to go to Baghdad, especially when I confess that I'm actually excited about my trip.

Everyone has different motivations for doing what we do, but I really think that it is all about bearing witness. This is history in the making and if we're not there to report it, out of fear of danger, then no one will know. No one will be accountable. And at the end of the day, we are talking about ordinary people whose lives have been extraordinarily affected, in ways some of us could never imagine, nor would we want to.

I just have to stay safe while doing it.

Discuss "Beyond Northern Iraq"