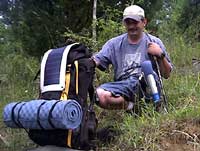 Doug Lowry e-mails with news of Scott Rogers, the bloke pictured above. He's an above the knee amputee living in Tennessee.
Scott has just set out on a 70 mile hike along the Appalachian Trail in Pennsylvania. 70 miles -- not much you may say. Scott's
real
goal, though, is to walk the entire length of the trail, some 2,200 miles. He reckons that's a whopping 4,646,400 prosthetically-aided foot steps.
As well as all his hiking gear, Scott's taken with him a solar powered charger for the computerised artificial leg he uses. As he says -- "I just didn't think a 2200 mile long extension cord was practical."
I'll be keeping across Scott's progress but you can find out more about him at
his personal website.
Discuss "Beyond Northern Iraq"