Time to round up this week's cultural villains, known collectively as
The Twat Pack.
Aaron Barschak, AKA "The Comedy Terrorist" -- Neither funny nor responsible for acts of terrorism. Just a very, very sad individual.
The Cheeky Girls -- The most compelling proof so far that Britain needs to tighten its immigration laws.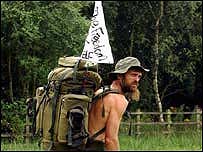 "Naked Rambler" Steve Gough. Just put some clothes on. Now. You're frightening the wildlife.
Keep the suggestions coming...