BREAKING NEWS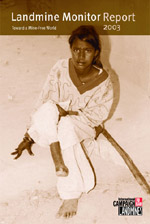 The 2003
Landmine Monitor Report
has just been published.
It's a massive and comprehensive document which assesses the implementation of and compliance with the Ottawa Treaty, and looks at the international community's response to the landmine crisis.
It's
the
guide to what's happening on the landmine issue. The major finding is a positive one -- that the Mine Ban Treaty and the ban movement more generally are making tremendous strides in eradicating antipersonnel landmines and in saving lives and limbs in every region of the world. The report says, however, that significant challenges remain.
I've only just started ploughing through the report but it's essential reading for anyone interested in the campaign to eradicate landmines.