ICELAND: NOT JUST VIKINGS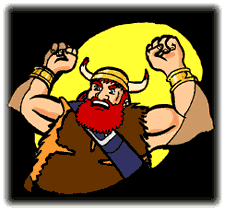 Since I got back from my New Year break I've repeatedly come up against "What has Iceland ever done for the world?" type cracks,
a la
"bet you can't name 10 famous Belgians."
For a population on a par with that of Cardiff, Iceland hasn't done badly, especially when you compare it with Cardiff's most famous sons and daughters (Charlotte Church, me and...er.....Shaking Stevens.)
So, in an attempt to silence the critics, here's a list of
10 GREAT ICELANDERS
(apart from Björk):
Jon Stefansson:
Basketball player. Joined NBA side the Dallas Mavericks after stints with KR Reykjavik and TBB Trier of Germany. He was named the Icelandic League Player of the Year in 2002 and was member of the All-Domestic Team and played in the Icelandic League All-Star Game.
Snorri Sturlason:
1179-1241. Celebrated Icelandic historian. Snorri is the author of the great prose Edda and the Ileirnskringla or Sagas of the Norwegian Kings.
Magnús Ver Magnússon:
Alias "The Champ," aka "The Taurus of Iceland." Four-time winner of everyone's favourite truck-pulling-with-teeth-fest The World's Strongest Man and "the greatest winner in power athletic of all times." Born in Egilstaðir, you wouldn't want to cross Magnús in a dark fjord.
Hofi Karlsdottir:
The Icelandic beauty queen was hotly tipped to win the Miss World pageant in 1985 -- and she didn't disappoint, returning north with the tiara and the sash. Journalist Ricardo Guiraldes, who covered the pageant for a Chilean newspaper in 1985, commented: "When we journalists put our eyes on Miss Iceland there was no doubt that she would become Miss World. She's one of the most stunning women I've ever seen!"
Baltasar Kormakur:
His name sure doesn't sound Icelandic -- a result of his Catalan-Italian-French Icelandic roots. However, the director's debut feature "101 Reykjavik" -- about a slacker's dysfunctional family life -- ushered in a New Wave of Icelandic cinema. Kormakur tries to show a new side of Icelandic society. "I don't necessarily identify myself with the Icelandic filmmakers," he says. "It pisses me off that big multicultural cities want to see romantic images of Iceland, old food and old clothes, and we fall into that pit of giving them that."
Bubbi Morthens:
Born in Reykjavik in 1956, Ásbjörn "Bubbi" Morthens moved with his mother to Denmark at the age of 13. After failing to school he returned to Iceland and took up work in the fish factories. However, after becoming interested in the music of Woody Guthrie and Leadbelly, Bubbi went on to become one of Iceland's best-loved musicians, both as a member of the group "Utangardsmenn" (The Outsiders) and as a solo artist.
Olafur Eliasson:
Is he Icelandic? Is he Danish? No one seems quite sure, but in the confusion Iceland is claiming him as one of theirs. Born in Copenhagen of Icelandic parents, Eliasson attended the Royal Academy of Arts in Copenhagen from 1989 to 1995. He has participated in numerous exhibitions worldwide and his work is represented in public and private collections including the Solomon R Guggenheim Museum, New York, The Museum of Contemporary Art, Los Angeles, the Deste Foundation, Athens and Tate. He's currently wowing the art-going world with his installation The Weather Project at the Tate Modern in London.
Eidur Gudjohnsen:
The Reykjavik-born footballer started his career with Valur Reykjavik before making the move to Dutch giants PSV Eindhoven in 1994. After overcoming injury he joined Bolton Wanderers and at the beginning of the 2000-2001 season made it to the Premiership, signing a five-year deal with Chelsea.
Halldor Laxness:
The undisputed heavy-weight champion of Icelandic literature, Laxness won the Nobel Prize in 1955. He published his first book, Barn Natturunnar when he was 17 and went on to gain recognition as a writer with the 1931 novel Salka Valka. It is the novel Independent People, however, which is regarded as his masterpiece -- and the encapsulation of the spirit and values of Iceland.
Briet Bjarnhéðinsdottir:
Born in 1856, Briet worked as a teacher and in 1885 became the first Icelandic woman to have anything published in the country -- an article on women's education published under a pseudonym in a Reykjavík newspaper. She went on to lecture on womens' rights and later edited a magazine for women. Briet established the Icelandic Womens' Rights Association to press for female suffrage, leading the way for voting rights for Icelandic women. Iceland would later become the first country in the world to elect a woman as head of state: Vigdís Finnbogadóttír was president of Iceland from 1980 to 1996.