I'm launching a campaign to encourage the
Imperial War Museum
to buy Jeremy Bowen's moustache for the Nation.
It's as much a piece of the history of modern warfare as a Spitfire or a Jagdpanther tank destroyer.
The only question is -- which era of top lip caterpillar should they purchase?
Do they go for the Balkans action hero?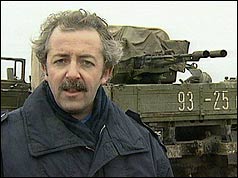 The East Jerusalem barber look?
The Breakfast News lounge lizard?
Or the Swiss Toni?