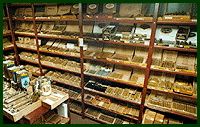 This afternoon, while taking a stroll, I made the greatest discovery just a couple of blocks away from the office.
Signature Cigars,
the DC area's only dealer of Pinar Pre-Embargo Cubans, is just two blocks away from the bureau.
I can see that the Signature Cigar Club is going to become a home away from home during the US election campaign.