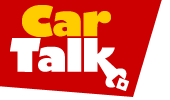 I don't have the slightest interest in cars.
I like the fact that they mean I don't have to debase myself by taking the bus -- but don't expect to find me drooling over a 255-horsepower, 3.5-litre V-6 engine or the fact that a car generates 430 pounds-feet of torque at 3,600 rpm.
I'm surprised, therefore, to find that I can't get enough of NPR's
Car Talk,
which was recommended to me by an American couple I met in Nepal.
The show has become the latest weekly must-listen on my iPod. It's a hugely entertaining hour of radio -- even for non-Petrolheads like me.