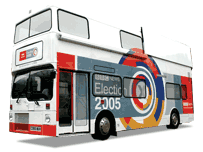 For some inexplicable reason, if you're gonna cover the election, you gotta have wheels.
BBC News has
a bus.
Newsnight clearly has far too much money because it has ditched its camper van and hired
a helicopter.
The
Politics Show
is putt-putting around northern England in a narrowboat (not exactly wheels, I know, but the principle's the same.)
And, best of all, Radio 1 Newsbeat is on the campaign trail in a
white van.
Clearly, someone in a suit has decided that if you want to make the election more "relevant" and "engaging" to the public you have to ponce around the country in a gypsy caravan/articulated lorry/horse and cart (delete as applicable).
Here in the foreign news department we have no general election to cover and, frankly, we're feeling rather left out.
I'm lobbying for the
Global News Push Bike
to be made standard issue for all producers on overseas assignments.