TIME CALLED AT THE PUFF INN?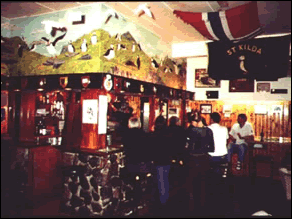 Five years ago I worked as a volunteer on the magical
St Kilda archipelago,
the remotest part of the British Isles.
While there I enjoyed more than a pint or two at the Puff Inn -- a gritty watering hole at the edge of the world.
But there's shock news on the Press Association wire today; the days of hard drinking at the Puff Inn could be coming to end -- for civilians at least.
The last St Kildans left the island 75 years ago. Here's hoping the new rules at the Puff Inn don't cause another exodus.
By Louise Hosie, Scottish Press Association

Visitors to one of Britain's most remote watering holes will no longer be able to enjoy a pint after non-military staff were barred, it emerged today.

The Puff Inn on the island of St Kilda, which lies around 110 miles off the Scottish mainland, has long been a popular drinking spot for passing yachtsmen and tourists.

But today the Ministry of Defence, which owns the facility, confirmed that only defence contractors working on the island's radar tracking station will now be able to use it. An MoD spokeswoman said: "The Puff Inn is part of a number of buildings which provide accommodation for people working on the island and official MoD
visitors.

"We have become aware that we may have allowed some unofficial visitors who have been using the inn on a discretionary basis."

She said that the decision to deny entry to members of the public was due to issues of "public liability insurance" and a general need for tight security at any MoD facility.

"This is not related to an increase in security related to the London bombings," she added.

The last full-time inhabitants of St Kilda left 75 years ago, but it remains home to a variety of rare bird species.

It was also recently awarded World Heritage Status in recognition of its "cultural landscape".