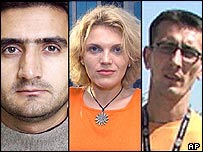 As many of you will now know, today I was paid a little visit by a hacker.
I've removed some of the more personal information from the previous posting to protect the innocent but I've left the rest of the posting intact so that you can let "Daster" know what you think of his actions.
Without wanting to sound over-dramatic, I think it's fair to say that over the past two years I've been through a lot. Few things, however, have been as upsetting as having my personal space invaded in this way. Thank you to everyone who's got in touch to offer their good wishes.
I feel angry, violated, and very, very sad.
The Metropolitan Police Computer Crime Unit are on the case, but in the meantime I'm going to have to think long and hard about whether I want to continue with this blog.
I set up the blog to highlight the issues I'm interested in, to encourage debate and dialogue. But if it's going to be abused by thugs then frankly I'm not sure it's worth the hassle.
Daster has made his point.
There are far easier ways to get a message across -- a polite e-mail usually does the trick -- but if it means he'll move on to terrorise someone else I'm prepared in this instance to highlight his concerns.
Call it blackmail, but in the circumstances I feel I have little option.
So, in what could be my last posting, I'm drawing attention to the plight of three Romanian journalists - Sorin Miscoci, Marie Jeanne Ion, Ovidiu Ohanesian and translator Mohammed Monaf, who have been kidnapped in Iraq.
Their captors are threatening to kill them if Romania does not withdraw its 800 soldiers from Iraq by Tuesday.
The Romanian president Traian Basescu has said officials are working to win the journalists' release but neither he or the prime minister has commented on their captors' demands.
Read reports on their plight
here,
here
and
here.
But if Daster thinks his hacking -- or the public protests taking place in Romania calling on the country's government to pull its troops out of Iraq -- will succeed in bring about the freedom of the hostages, he's likely to be very disappointed.
No government will allow itself to be seen giving in to the demands of terrorists -- even if that means sacrificing the lives of innocent civilians. Anyone who's read their
Machiavelli
knows that.
Delicate negotiation -- and if necessary the quiet payment of a large ransom (remember
Simona Torretta and Simona Pari
?) -- are far more likely to bring about the release of the Romanians.